Jose Gamez is a chemist at Covestro in Leverkusen, Germany. He used to do most of his work in a laboratory among glass flasks and centrifuges, but for the past 12 years he has spent his time primarily at his computer – as a laboratory chemist who has become a computer chemist. When he inputs data from his experiments, the computer converts it all into the 0s and 1s of binary code before the calculations can begin. And the results are quite astonishing. According to Gamez, computer-based chemistry opens up a whole new world of opportunity: "A high-performance computer can run through experiments much more quickly than we can in the laboratory." This enables many more experiments to take place – even entire series of tests that would previously have been far too complex.
Computer chemistry creates new opportunities
The computer can also provide useful insights: "In the laboratory, we only see the results of a reaction. But the computer can also show us why things work. That's a real gain for us," explains Matthias Leven, a digital catalytic process expert at Covestro. If an experiment works on the computer, it is verified in the laboratory.
Leven is collaborating with colleagues from Pittsburgh, Pennsylvania (USA) and Amagasaki, Japan on the development of catalysts and the modeling of new chemical approaches. This global teamwork will become even more intensive when a new data platform is in place.
Cross-border collaboration
The exchange of information across national borders is also helping Hao Wu, a technical expert in the digital pilot project "Covestro Global Asset Monitoring" in Shanghai. He and his fellow engineers in Germany and the USA regularly discuss how data analysis can be enhanced with the help of software. Together, they are developing a program designed to eliminate the laborious process of collecting data from various instruments and equipment at the company's plants: "Digitalization is making us much more efficient as well as smarter," says Wu. Having worked as an engineer for over ten years, he is convinced that there is no time better than the present.
Artificial intelligence
Virtual ways of working
Three questions for Dr. Gerlind Wisskirchen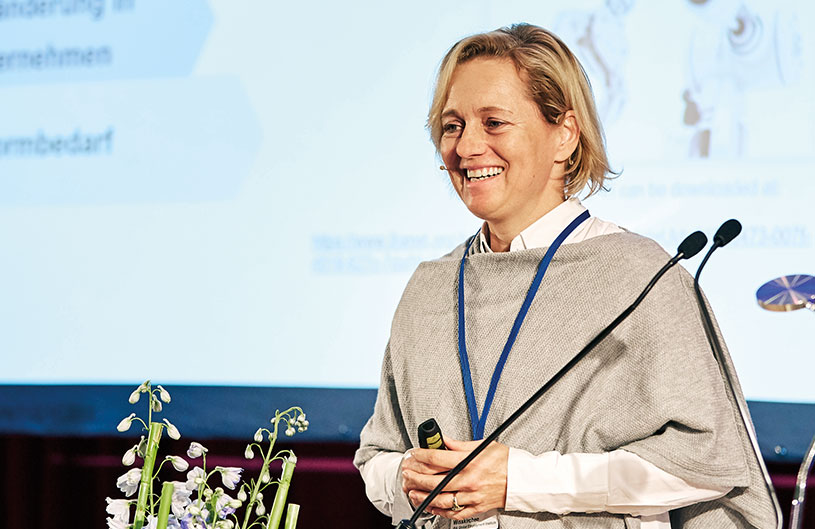 What changes can employees expect artificial intelligence (AI) to bring?
In future, AI will play a role in decision-making in every part of a company. New business models will also be established: Automated activities will be developed together with third-party companies and freelancers will be hired via platforms for special tasks. That's something else that employees will have to get used to.
Which parts of a company will be affected by the new AI-assisted collaboration?
All the divisions and departments will ultimately operate on the basis of AI: There will be platforms for the purchase and sale of goods and for payment transactions, communication platforms for advertising, and crowdworking platforms that can be used to commission a wide range of services for the company.
What challenges do platform economics pose for employees and, in particular, managers?
The use of virtual teams in the company will increase, and they will frequently be made up of employees from various facilities plus different external service providers. The challenge will be to coordinate both the digital teams and the freelancers, because they may all be working from different places and at different times. This will demand a lot of project managers and management when it comes to communication and coordination.