Covestro on the Capital Market
Inclusion in the DAX
On March 19, 2018, Deutsche Börse AG added Covestro to the German benchmark index, the DAX. As a result, Covestro is now one of the 30 most important listed companies in Germany. Covestro is also included in the STOXX® Europe 600 Index, the MSCI Global Standard Germany Index, and the FTSE Global Equity Index Series.
Covestro stock in a weak environment
On the whole, the European stock market was mediocre in 2018: Many indices such as the EURO STOXX 50® posted a negative performance. At the end of the year, the DAX, which is relevant for Covestro, was down 18.3% compared with its value at year end 2017, while the STOXX® Europe 600 Chemicals Index fell 15.6% during the same period.
Hallmarks of the past year included uncertainties such as the trade dispute between the United States and China, rising debt in Italy, and the Brexit negotiations between the European Union and the United Kingdom. This environment in capital markets also affected Covestro's stock. The Xetra® closing price was €43.18 at the end of 2018. The high price for the year of €95.00 – also the latest record in Covestro's capital market history – was reached on January 19, 2018. On December 20, 2018, Covestro stock dipped to its low for the year with a closing price of €41.90.
Compared with the closing price of €86.03 for 2017, this represents a decline of 49.8% for Covestro's stock in 2018. Including the dividend of €2.20 per share paid out in April 2018, Covestro's stock performance (with dividend reinvestment) was –48.4%.
At the end of the reporting period, Covestro's market capitalization stood at around €7.9 billion based on the reduced capital stock of 183 million shares. The average daily trading volume was around 1.2 million shares. In a ranking by German stock indices, the company therefore came in 23rd in terms of trading volume and 34th in terms of market capitalization at year end 2018.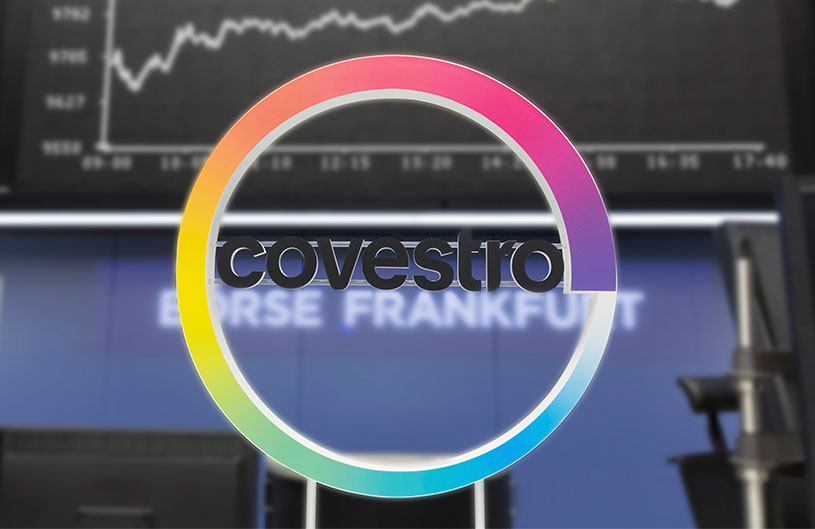 The Board of Management and the Supervisory Board of Covestro AG will propose a dividend of €2.40 per share carrying dividend rights to the Annual General Meeting on April 12, 2019. This represents a dividend yield of 5.6% based on the closing price on December 28, 2018.
Covestro Share at a Glance

2017

2018

Covestro closing prices Xetra®; source: Bloomberg

Average daily turnover

million shares

0.6

1.2

Year-end closing price

€

86.03

43.18

High

€

88.20

95.00

Low

€

62.07

41.90

Outstanding shares (closing date)

million shares

202.5

182.7

Market capitalization (closing date)

€ billion

17.4

7.9

Stock price development

%

+32.0

–49.8

Stock price performance (with dividend reinvestment)

%

+34,5

–48.4

Dividend per share

€

2.20

2.40
Share buy-back program completed and capital stock reduced
On December 4, 2018, the share buy-back program announced in the fall of 2017 was completed successfully. This program involved the company buying back treasury shares amounting to as much as €1.5 billion, or up to 10% of the capital stock. From to November 21, 2017, the company acquired shares in three tranches totaling more than 9.8% of the capital stock and valued at nearly €1.5 billion. As a result, Covestro successfully concluded the program around half a year earlier than envisioned.
The Board of Management intends to propose a new authorization to acquire treasury shares amounting to no more than 10% of the company's capital stock at the upcoming Annual General Meeting. According to the German Stock Corporation Act, authorization such as this is required for deciding on possible additional share buy-backs in the future.
After completion of the current program, the Board of Management also resolved to retire 19.5 million treasury shares and therefore reduce the capital stock by €19.5 million. Since then, the capital stock of Covestro AG has amounted to €183 million, divided into 183 million no-par value bearer shares.
Substantially higher free float
Bayer AG reduced its direct interest in Covestro by another 21 million shares at the start of 2018. The share placement took place after the markets closed on January 10, 2018, and was aimed exclusively at institutional investors. On May 3, 2018, Bayer AG initiated the sale of a further block of around 29 million Covestro shares. This block was once again offered exclusively to institutional investors. Bayer AG now only holds around 14 million Covestro shares with which the company has stated it intends to settle the 2017 exchangeable bond maturing in 2020. Accordingly, around 92% of Covestro's shares were in free float at the end of 2018.
Moody's upgrades credit rating
The rating agency Moody's Investors Service, London, has updated Covestro's existing investment-grade rating as part of a regular review. On July 30, 2018, Moody's upgraded the company's credit rating from Baa2 to Baa1 with stable outlook.
The ratings analysts based their decision in part on the consistently strong operating results and cash flows that Covestro has generated in recent years. The assessment stated that this led to faster paydown of debt than originally expected. Covestro AG's financial indicators therefore placed the company in a better rating category.
The Baa1 rating with a stable outlook puts Covestro in an excellent position for obtaining financing, particularly on the international debt market.
ADR program successful in second year
Since December 1, 2016, the American Depositary Receipt (ADR) program has granted global investors simplified access to Covestro stock. The Covestro ADR is traded over the counter in the United States under the COVTY ticker symbol. The total number of outstanding depositary receipts reached approximately 1.2 million (previous year: around 191,000) with continued high monthly growth rates.
Buy recommendation from nine analysts
At the end of 2018, Covestro stock was covered by 24 financial analysts, with nine issuing buy recommendations and 15 giving neutral assessments. None of the analysts recommended selling Covestro stock. The average share price target was approximately €60 at year end.
| | | |
| --- | --- | --- |
| | | |
| Capital stock | | €183,000,000 |
| Outstanding shares (year end) | | 182,704,602 |
| Share class | | No-par ordinary bearer shares |
| ISIN | | DE0006062144 |
| WKN | | 606214 |
| Ticker symbol | | 1COV |
| Reuters symbol | | 1COV.DE |
| Bloomberg symbol | | 1COV GY |
| Market segment | | Regulated market |
| Transparency level | | Prime standard |
| Sector | | Chemicals |
| Index | | DAX |
STOXX® Europe 600 Chemicals
A sector index provided by STOXX®. The STOXX® Europe 600 is comprised of 600 companies across Europe.
EURO STOXX 50®
A European stock index that tracks the performance of the 50 most important and most actively traded companies in the eurozone
AktG/German Stock Corporation Act
Regulates the legal provisions pertaining to German stock corporations
ADR/American Depositary Receipt
A depositary receipt issued by U.S. banks that documents ownership of a certain number of deposited shares of a foreign company and is traded on U.S. stock markets as representation of the original shares