There, can you hear that?" Yilan Li flicks her finger against the shiny black housing. It gives off a hollow ring – just the way you'd expect metal to sound. Except this isn't metal. The housing of the two adult-sized towers of a state-of- the-art air-conditioning system is, in fact, made of plastic. A plastic that sounds and feels like metal? And is even attractive – in this case, as elegant as brushed aluminum? One that is extremely lightweight and incredibly sturdy, offering unprecedented opportunities for designers?
"We're talking about CFRTP, a brand-new composite material," explains Yilan Li, a market developer, who is employed at the company's Asian research center in Shanghai. CFRTP stands for continuous fiber-reinforced thermoplastic composite. Li played a crucial role in ensuring that this new material was selected for use in the elegant air-conditioning unit made by China's Haier Group, the world's biggest "white goods" manufacturer (since air-conditioning units are traditionally white).
Covestro and Haier have achieved a major breakthrough with the new composites.

Shao Qingru; Designer, Haier Group
CFRTP is the product of a match made in heaven. One half of that match is carbon or glass fibers, which provide strength and lightness. The other half – plastics such as polycarbonate or thermoplastic polyurethane – makes the material flexible, durable and, above all, easy to mold.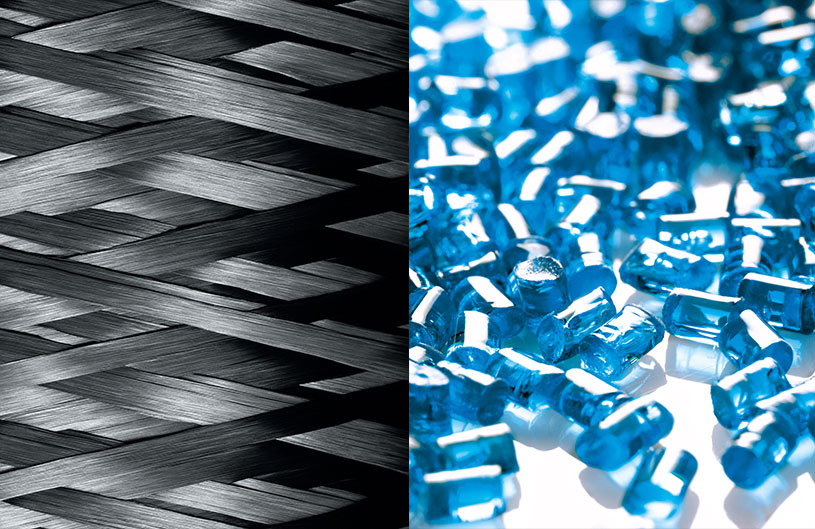 A wide array of applications
A combination of good properties like this one is extremely attractive on the market to the many companies and branches of industry that need high-quality materials. What's more, specific features can be incorporated in the new composites known as Maezio™, which are particularly quick and efficient to produce. They can also be recycled. All this provides Li and her colleagues with a wealth of opportunities when it comes to identifying additional application areas for this up-and-coming material.
"Sorry if it's a bit messy in here," says the 39-year-old, gesturing around the loft in which she works. It has the feel of a garage company: One corner is occupied by an electric scooter, while bicycle parts hang from the ceiling. One of the tables is cluttered with laptop lids that vary widely in terms of color and surface structure – although all are particularly thin and lightweight. "These are around 15 percent lighter than ones made from conventional magnesium-aluminum alloys," says Li.
This is good news for the electronics industry, which is especially eager to produce streamlined, lightweight notebooks, tablets and smartphones. But other industries are very interested in the new composite material too, including manufacturers of sportswear such as the Chinese start-up Bmai (see "Marathon with Maeziotm"). Further applications can be found in the automotive, furniture, baggage and medical equipment sectors, among others.
Elegant look:
Household goods manufacturers are impressed by CFRTP's attractive appearance.
Incredibly stable:
The material is valued by shoe manufacturers because it provides the foot with especially good support.
Light as a feather:
The automotive industry wants to minimize weight – the new composite material makes that possible.
Extremely thin:
CFRTP composites are in demand in the electronics industry especially for its streamlined design.
Filling a gap in the market
"Lots of branches of industry are looking for extremely robust and lightweight materials that will enable them to manufacture parts that are even thinner and can be integrated into the functions. They also want more efficient production. Our new high-tech material fills this gap," says Lisa Ketelsen, who heads the Covestro CFRTP business in Shanghai.
But the idea first took hold in rural southern Germany, a good 14-hour flight away, where a couple of engineers launched a thermoplastic composites start-up over a decade ago. In 2015, that start-up was acquired by Covestro and developed further. Commercial production started three years later. Since then, the sleepy town of Markt Bibart has been supplying CFRTP films and sheets to companies around the globe (see "Composite Valley in the countryside").
High-tech production
Composite Valley in the countryside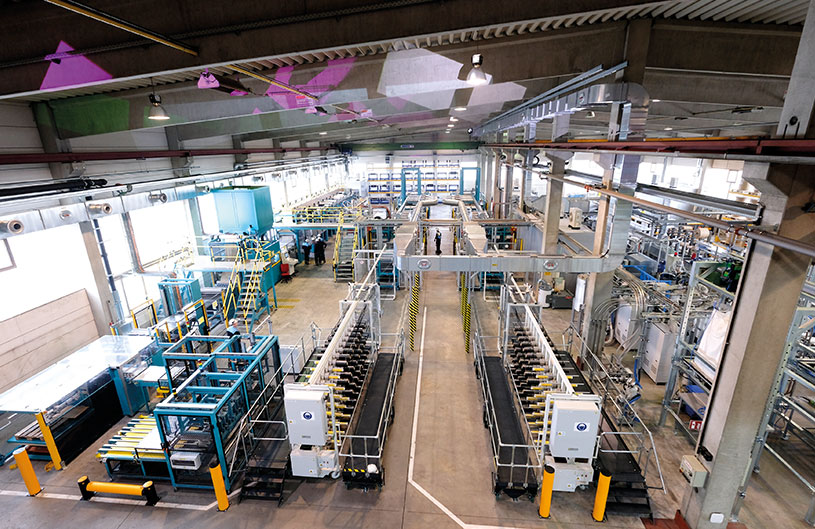 Markt Bibart is an idyllic little town in Franconia (a region in the northern part of Bavaria, Germany) where tradition is important and the beauty of the surrounding countryside is a key advertising feature. It's hard to imagine high-tech goods being manufactured in such a picture-book setting, but that's just what is happening in an inconspicuous gray building on the edge of town where Covestro began the large-scale manufacture of its leading-edge material CFRTP in March 2018. The company has invested a mid-double-digit euro sum in the plant.
But why manufacture the new material here in the countryside, far from the company's major locations in the Rhineland and on the North Sea? The region's role as something of a Composite Valley was one key to the decision: It is home to renowned universities and institutions that are close cooperation partners of Covestro because they conduct intensive research into the development of composite materials – the University of Bayreuth, the Friedrich Alexander University Erlangen-Nuremberg and Neue Materialien Fürth GmbH, a research facility sponsored by the Bavarian government.
The latter is the workplace of Senior Engineer André Lück, an expert in composites development: "We are seeing increasing global demand for materials that are both sturdy and lightweight and can be manufactured in large quantities. Composites made of fiberreinforced thermoplastic materials meet all these requirements."
Haier was particularly impressed by the wide-ranging design flexibility and innovative appearance of the composite. "The first time I laid eyes on the material, I was struck by its aesthetic quality. Naturally we were interested right away," says Shao Qingru, a member of the company's design team.
Even so, there were several major obstacles to overcome along the long road to the goal of incorporating the material in Haier's luxury air-conditioning unit. To start with, Yilan Li and her colleagues at Covestro had to set up an entire value chain, since the fabricators had no experience using the new precursor. "We ran from one provider to the next," recalls Li. Eventually the right partner for the project was found – Suzhou Yichangtai Plastic, whose Managing Director, Chen Jinming, says: "The age of fiber- reinforced thermoplastic materials is dawning. Investing in this technology will give businesses a competitive edge."
15%
Laptop housings made from CFRTP are around 15 percent lighter than ones made from conventional magnesium-aluminum alloys.
New materials are not easy to find
Haier's Shao Qingru is also optimistic. "It isn't easy to find new materials, and it takes a lot of effort and expenditure to get them to the point where they can be used successfully in an end product," says the designer. "In my eyes, Covestro and Haier have achieved a major breakthrough."
It's clear that fibers and plastics aren't the only match made in heaven. Material developers, suppliers and distributors also make a formidable team.
Interview
Marathon with Maeziotm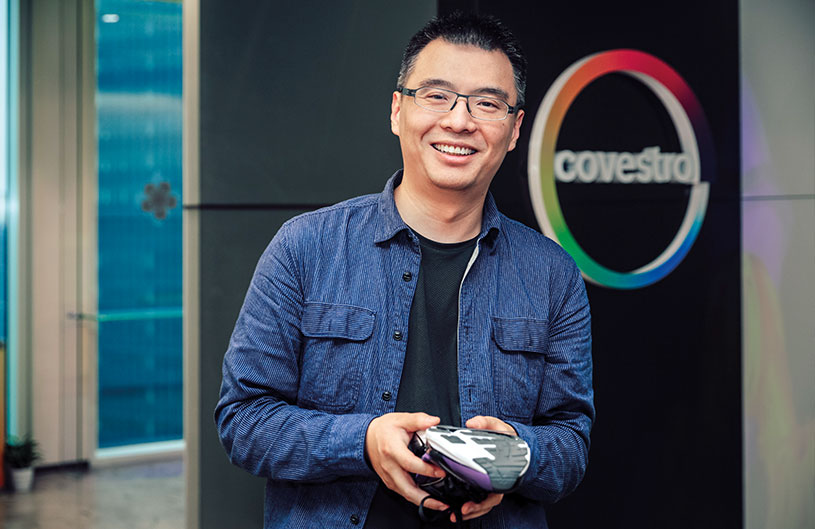 Meet a Chinese best-seller: Bmai's marathon running shoe 42 K Lite. The sportswear manufacturer Bmai, which was founded in 2015, focuses on selling affordable products directly online. Another focal point is the use of high-performance materials, which is why a new composite from Covestro has now been used in a limited edition of its popular shoe. Axis Liu, Head Designer at Bmai, explains.
Shoe manufacturers are constantly on the look-out for new technologies and materials. Why is this?
In our industry, you have to pay great attention to staying ahead when it comes to brand positioning, and that applies to the technology in your products, too. New materials are one of the main drivers of innovation in the footwear industry. There is a huge range of materials to choose from, but shoemakers are especially interested in lightweight materials that provide the foot with better support and stability and help boost performance.
What convinced you to use a completely new material such as Maezio™ from Covestro for the shaft of your current model?
There are several reasons why we are attracted by these composites. Their unidirectional texture is particularly interesting. It makes a change from the weave pattern of conventional fiber-based materials and gives the shoe a fresh appearance. Best of all, the new composites are extremely sustainable – they can be recycled.
You will find more information on CFRTP composites on our website.