Foreword
How we pioneer with...

Our Vision
Dr. Markus Steilemann
Chief Executive Officer

Our Solutions
Sucheta Govil
Chief Commercial Officer

Our Technology
Dr. Klaus Schäfer
Chief Technology Officer
Our Business
Dr. Thomas Toepfer
Chief Financial Officer
Dr. Markus Steilemann, Chief Executive Officer
How we pioneer with
our vision
Covestro will become fully circular and wants to contribute to making the circular economy a global guiding principle. We see this as a key to solving global challenges such as climate change, dwindling resources and environmental pollution, which are massively affecting our planet.
In realizing our vision to become fully circular, we made further progress and set accents in 2021. For example, with a world premiere: the first climate-neutral* polycarbonate plastic, produced in a duet of sustainable raw materials and renewable energy. We are also innovative when it comes to recycling. After all, waste is one of the resources of the future, along with biomass and CO2. In this way, we are replacing oil and gas and recycling carbon instead of emitting it. A milestone on this path is the pilot plant in Leverkusen (Germany), which we have opened in 2021. Here we are testing a new process for chemically recycling foam. The goal: a second life for discarded mattresses, which until now have ended up in landfills or have been incinerated.
Accordingly, the circular economy is a cornerstone of Covestro's strategy. We want to gradually generate all our products from alternative raw materials and switch production completely to renewable energy. At the same time, we are increasingly aligning our product range to the growing need for sustainable solutions. In this way, as a further pillar of our strategy, we aim to generate sustainable growth. The acquisition of the Resins & Functional Materials business (RFM) from DSM, completed last year, will help us to achieve this. The comprehensive realignment of our Group structure in 2021 will also ensure a successful future. This will enable us to better bundle competencies, for example, for accelerated digitalization. I am certain: in the new setup, we will be even more competitive, customer-focused and efficient – equipped for all challenges and open for the many business opportunities.
* Climate-neutral is the result of an assessment of a partial product life cycle from resource extraction (cradle) to the factory gate, also referred to as cradle to gate assessment. The methodology of our Life Cycle Assessment is based on the ISO 14040 standard, critically reviewed by TÜV Rheinland on the basis of a plausibility check. The calculation considers biogenic carbon sequestration based on preliminary supply chain data and replacing electricity grid mix with renewable electricity used for the manufacturing process. No offsetting measures have been applied.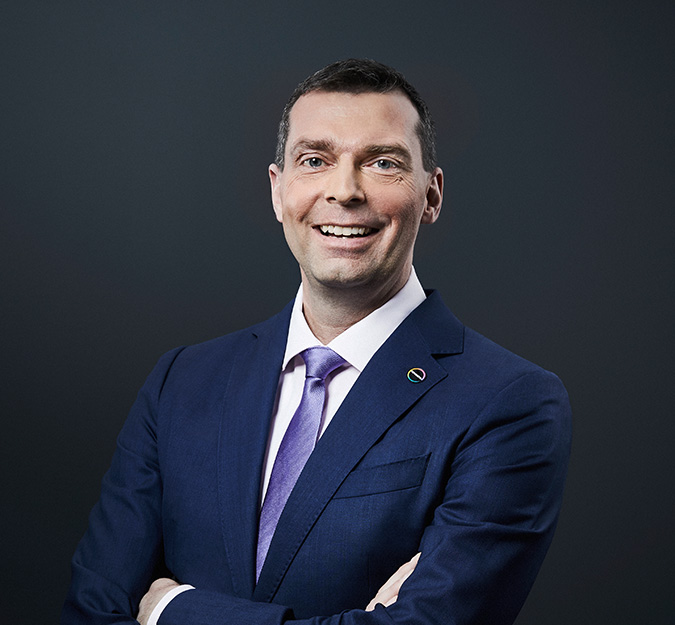 »To become fully circular is a vision at the pulse of time. Our goal: preserve the environment, advance society and generate sustainable growth.«
Dr. Markus Steilemann, Chief Executive Officer
Sucheta Govil, Chief Commercial Officer
How we pioneer with
our solutions
Focusing on our customers and their needs in a fast-changing business environment is one of the key elements in becoming a pioneer of our industry. We believe that only if we continue to be the best possible partner for our customers, can we be successful in the future.
In 2021, we took decisive steps on reorganize our Group structure to become the best partner for our customers. With our new segments "Performance Materials" and "Solutions & Specialties" we have aligned our organizational structure to be more consistent with our business success factors and customers' needs. The demand for innovative high-performance materials grows with our customers, because plastics are the accelerator to a climate-neutral world. This is why we've introduced new applications and brands based on alternative raw materials such as CO2.
But we did not stop there. We also implemented a new set-up for our corporate functions, bundling strategic "build activities" to support the long-term development of Covestro. Our corporate functions also play a critical role when it comes to logistics and supply chain management. Throughout the past year, global supply chains and logistics have been put under severe strain – not least by the coronavirus pandemic and the global raw material shortage. It is great to see, that we were able to deal with the situation without ever compromising the health and safety of our employees. Thanks to our deep integration and regional production strategy, we acted swiftly and have served our customers reliably at all times, once again proving the resilience of our business model.
By reorganizing our competencies, we are driving the Group-wide development of transformative solutions. In this way, we pay tribute to our core principle of sustainability and our vision of the circular economy, and to secure our long-term success.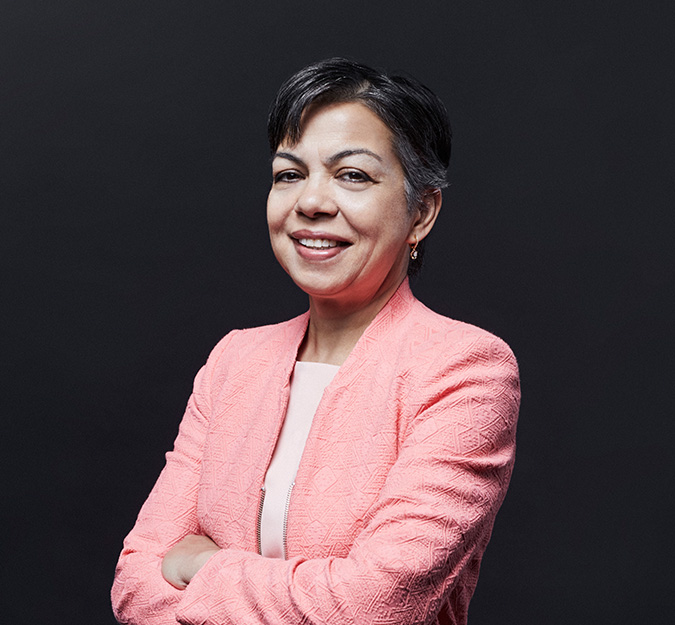 »We continue to be the best possible partner for our customers. To achieve this, we align ourselves even closer to their needs, unlocking the full potential of our organization.«
Sucheta Govil, Chief Commercial Officer
Dr. Klaus Schäfer, Chief Technology Officer
How we pioneer with
our technologies
At Covestro, we want to accelerate the transition towards a fossil-free economy and ultimately become fully circular. We understand that we can only reach our goals if we constantly live up to our ambition and continue our research into future technologies and new ways to close the loop.
In order to leave behind fossil-fuels, we are continuously advancing the use of alternative raw materials to manufacture our products. In 2021, we have again been able to take important steps regarding our sustainable product portfolio: We have already successfully commercialized around 45 products based on alternative raw materials and currently work on almost 90 Research & Development (R&D) projects aimed at finding more ways to use CO2, waste, or biomass as raw material for our products.
We are, however, not only driving the sustainability of our product portfolio. We are also working on the carbon footprint of our entire company. To this end, we have set ourselves the long-term goal to cover our entire energy demand from renewable sources, and we'll continue to expand our green energy portfolio going forward. At the same time, we have obtained ISCC PLUS certification for a number of production sites around the world. This "International Sustainability and Carbon Certification" provides transparency to our customers and helps to track the use of alternative raw materials throughout the value chain.
And we are continuing to forge ahead along this path. In 2021, we announced to resume the investment project for the construction of a world-scale MDI plant, which will leverage our particularly energy-efficient AdiP technology successfully piloted at our Brunsbuettel (Germany) site. All these innovations are an investment in a sustainable future. We are sticking to our goal and building on the successes we have already achieved on the way to a circular economy.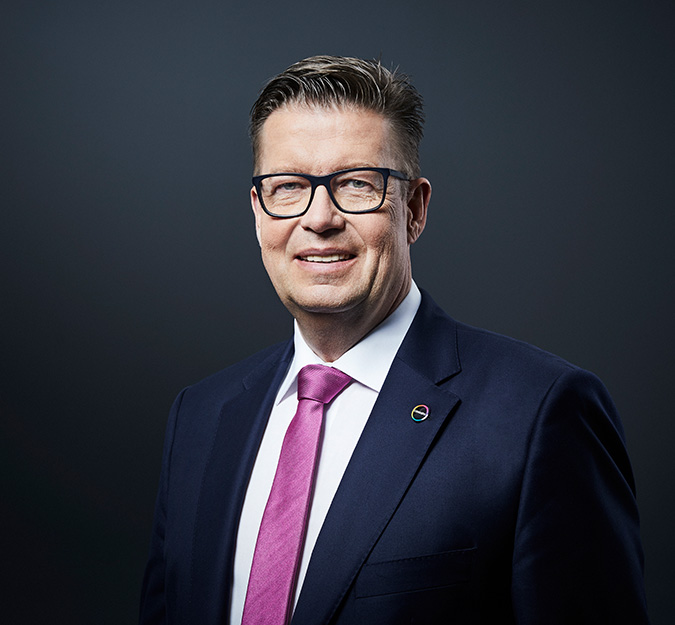 »New technologies will be the key to becoming fully circular. We are committed to our research and will keep investing in the expansion of our sustainable product portfolio.«
Dr. Klaus Schäfer, Chief Technology Officer
Dr. Thomas Toepfer, Chief Financial Officer
How we pioneer with
our business
Covestro had a very strong year. Despite all macroeconomic challenges of the past months, we not only met but significantly exceeded our earnings targets we set ourselves at the beginning of 2021. We are confident that we will continue our successful journey in 2022.
The last year was marked by ongoing economic recovery, following the onset of the global coronavirus pandemic. Demand for our products continued to pick up strongly in many key industries and we carried the good economic momentum through the entire year.
As a result, we delivered a strong performance for the full year 2021. Our revenues were around EUR 15.9 billion, the highest revenues level in our company's history. At around EUR 3.1 billion, our EBITDA more than doubled, leading to a net income of around EUR 1.6 billion. Covestro continues its growth trajectory, and this would not have been possible without our employees. They have gone the extra mile every day in production, in the laboratories and in administrative functions. For me, this commitment and solidarity are the clearest proof that our "We Are 1" culture is truly something special.
Looking into the year 2022, we remain confident. The constantly growing demand for our products shows that we are very well positioned to benefit from the global trend towards a more resource-efficient and more sustainable economy. The need for more energy-efficient construction and the continued strong rise in electromobility are just two examples of developments towards a more sustainable future. With our vision, we have set ourselves ambitious targets and there is still a long way to go. But in the past year we created room for investments and strengthened our ability to grow with innovation and digitalization. I look forward to continue driving our transformation as a team and push ahead with our new Group structure.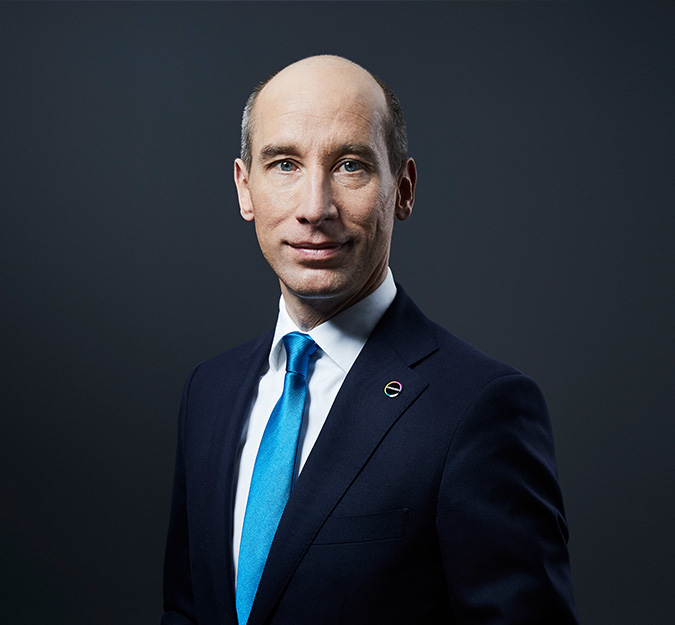 »2021 was a strong year. We remain confident that demand for sustainable solutions will increase. With our powerful set-up we are ideally positioned to benefit from this development.«
Dr. Thomas Toepfer, Chief Financial Officer
Foreword